2012—Testimony
Paradise Point Resort & Spa, San Diego, CA

October 25, 2012 at 7:30pm
Often physicians and dentists focus exclusively on the physical body. However, God's design for His medical collaborators is the complete restoration of mankind – physically, mentally, socially and spiritually. This year's conference will emphasize 'testimony'. Speakers will share their own journey to becoming a medical evangelist and how a passion for Christ has enhanced their daily practice.
Pricing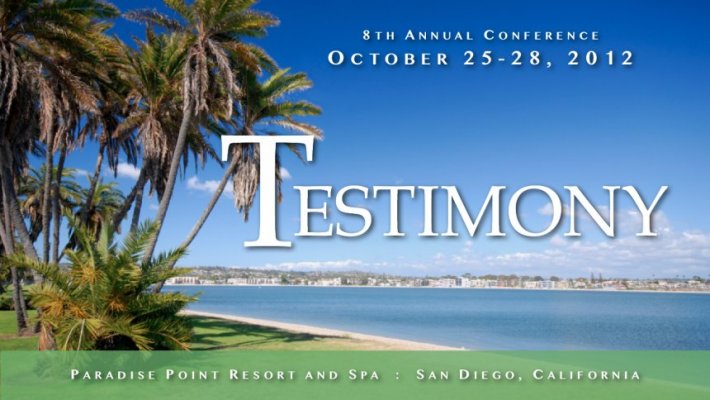 AMEN Member $245.00
Non-member $295.00
CME +$45.00
Spouse/guest $195.00
Child, 4–12 years $97.50
Child, 0–3 years Free
Residents receive 50% off registration. All registration categories include attendance to all meetings & seminars and 7 meal package. However, the spouse/guest category is only allowed to be used with an accompanying full registrant. To pay by check – Make check payable to AMEN and mail to:
PO Box 2528
Greeneville, TN 37744
Register Now
October 25–28, 2012
Paradise Point Resort and Spa, San Diego, California
View the conference schedule.
Meet this year's speakers.
Travel Details
Closest Airport: San Diego International (SAN)
First meeting: Business meeting 6pm Thursday October 25, 2012 (non-AMEN members the evening meeting starts at 7:30pm)
Last meeting: Breakfast ending at 9:30 am Sunday October 28, 2012
Airport Transportation: Paradise Point Resort is about 6 miles from SAN. Cloud 9 (approx. $12/person each way) or a Taxi (approx $28 for up to 4 passengers) are good options. More information about group pricing will be available soon.
Lodging: Paradise Point Resort – $109/night + tax. Book your hotelonlineor call (800) 344-2626 and mention the AMEN conference to get the reduced rate
Parking: Day parking is complimentary.AMEN has negotiated for a number of overnight parking passes. If you will be driving or renting a car and need to park overnight please email barnhurst@amensda.org so she can arrange for a complimentary parking pass for you. If they run out the rate will be $10/car/night.
CME
The Adventist Medical Evangelism Network (in connection with Loma Linda University) is pleased to offer up to 4 continuing education credits (medical or dental) at the 2012 annual conference.
Children's Meetings/Family Activities
Children's programs will be offered throughout the conference with social activities Saturday evening. There are plenty of family-friendly activities available at the resort as well including, swimming, tennis, ping-pong, croquet, bocce ball and bike rental. We encourage you to attend with your family.
October is Kid's month in San Diego so numerous places are offering discounts for children's admission, etc. Visit San Diego's website for more information.
Meal Tickets
Evening meetings and all day Sabbath at the AMEN Conference are open to the public. However, meals are not. If you plan to join us for a meal, pleasepurchase a meal ticketin advance. Thank you so much. This is NOT for fully registered participants -registration includes ALL meal tickets.