Every AMEN free clinic and mission is made possible by the compassion and love of our volunteers. From setup to teardown, from the first patient to the last, nothing could happen without the sacrifice of our medical and non-medical volunteers.
Hundreds of people have volunteered for AMEN missions over the years. Some come for the weekend clinics to help local communities. Others travel to faraway lands, sleep in tents, and take cold bucket showers to help those in need. Healthcare professionals are vital to the delivery of quality free services. These include, but are not limited to: dentists, physicians, nurse practitioners, nurses, paramedics, EMT's, dental hygienists, dental assistants and technicians, and therapists.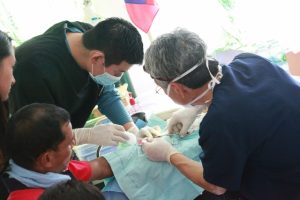 Frequently Asked Questions
How do I volunteer?
Click on the "volunteer now" button to apply. Once you apply, we will send you an email with more specific details. Please wait until we've confirmed with you before you purchase air tickets.
How does licensure work?
Medical volunteers must have a current, valid professional license. Nine states have adopted laws that allow licensed medical professionals from other states to volunteer without additional licensure. They are: Tennessee, Kentucky, Illinois, Oklahoma, Nevada, Missouri, Virginia, Connecticut, and California. Other states are in the process of passing similar laws. Check back to see this list grow.
If you see a free clinic posted that is not in one of the listed states, that means you must have a valid license in that specific state in order to volunteer as a medical professional.
Does AMEN provide malpractice insurance for medical volunteers?
We're happy to report that AMEN provides malpractice insurance for all medical and dental providers through an A+ rated insurance provider at all of our clinics. In addition to physicians and dentists, this coverage includes optometrists, nurses, hygienists, dental assistants, NPs, PAs, EMTs, chiropractors, therapists and all other medical and dental volunteers. The provider must hold a valid license at the time of the clinic. The coverage is per occurrence and is $1 million per occurrence. What that means is, you will be covered (until the statute of limitations runs out) for any litigation that may arise from an incident that occurred at the clinic in which you volunteered.
Remember that you must hold a valid license and also have a valid temporary license (if this applies to you) if you are practicing outside of your state of licensure.
In order to insure that you are covered, please make sure you register online and are in our system.
How do I learn more about the clinic I'm volunteering for?
Once you register, you will be in our database for the particular clinic you chose. We will send you email updates. You may not receive detailed info until as close as 4 weeks before the clinic. If you want, contact us by phone (530) 883-8061 or by email admin@amensda.org.
How much does it cost?
Volunteers are responsible for their own travel and accommodation expenses. Occasionally, AMEN is able to get group hotel discounts. Meals are provided on-site during the clinic. Always check with AMEN for confirmation before making travel plans.
What about the working conditions?
An AMEN free clinic is not your typical 9 to 5 job. Expect to work very hard from early morning until about 6 pm. Non-medical volunteers will help with registration, cleaning, crowd control, cooking, visiting with patients, etc. Clinics are usually held in community centers or church fellowship halls. Conditions are often cramped and equipment sometimes breaks down, so it's important to know how to improvise. Hotel conditions vary. Most volunteers try to stay close to the clinic. Food is provided on-site.
International mission sites are more primitive. Depending on the country, you may need to apply for a visa so plan ahead as much as possible and always keep your passport current. Disaster relief trips are organized quickly and require flexibility.
Is there an age limit?
You're welcome to bring your family if you choose. However, children under 16 must be supervised at all times. Children under 14 are discouraged from volunteering unless they are highly motivated to work and a parent is willing to supervise them. The intense nature of the clinics and trips may not be accommodating for small children.
I'm a dental/medical student. Can I volunteer?
Absolutely! This will be a fantastic learning opportunity for you. You will likely be partnered with a skilled professional in your field. If you need volunteer hours, we are happy to provide documentation. A two-day clinic usually equals 20 volunteer hours.