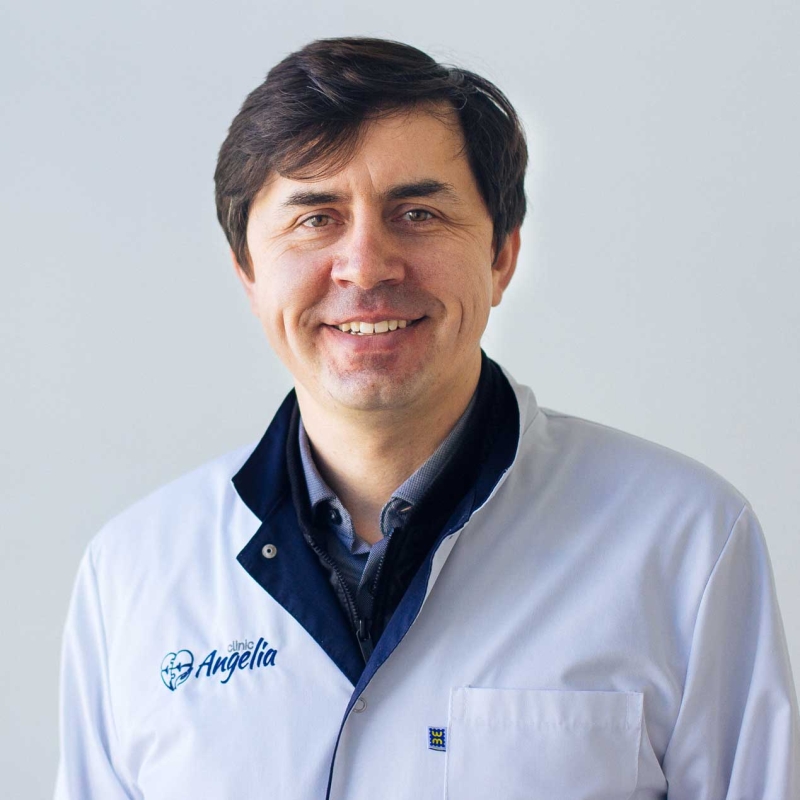 Yury Bondarenko, 
MD, MPH
Working Together for Good
Published on 07/01/2022   |
Before the latest escalation of the war between Russia and Ukraine on February 24, 2022, the Angelia Clinic, of which I am a part, operated only in Kiev. At the time our medical team consisted of ten doctors working in our outpatient clinic, and three doctors worked in our 13-bed inpatient clinic. Services included mental and family health, dentistry, family medicine, neurology, obstetrics-gynecology (ob-gyn), ultrasound, clinical laboratory, cardiology, and otolaryngology (ENT).
When the war started we activated our emergency plan, which included evacuation of the Kiev clinic; however, several dentists, physician's assistants and nurses stayed behind. For their safety they moved into the clinic, which served as makeshift living quarters by night and clinic by day. The limited staff have continued to treat patients since the war began.
The rest of the healthcare providers from the Kiev clinic relocated to a Chernivsti, Ukraine, near the Romanian border. There, we opened a mobile Angelia clinic.
With so many people in turmoil over the war, we decided to provide all our services for free except some major dental procedures and prosthodontics. This hasn't been easy, as we ourselves are internally displaced people who are also in need of support.
Our friends and donors of supporting organizations in the United States like Outpost Centers International are helping with operational expenses. And now, gradually, some patients are starting to make donations after they are seen. Some pay cash. That helps with our income stream although we are still dependent upon donations for operations.
Now the Lord has opened the door for the Adventist-run Bethany clinic to accommodate the Angelia clinic with them in one building in Chernivtsi City. We are now friends and partners, working together at a second location. Meanwhile, three doctors have returned to Kiev to restart the inpatient program.
Many people do not have access to medical care. To accommodate this need we purchased ambulances, a trailer, and a truck to serve as infrastructure for a new mobile clinic. This doctor's office on wheels is now providing services for displaced persons in Western Ukraine.
Seventh-day Adventist churches have joined together with us in organizing medical clinics for their various communities. So far, we have visited 28 cities in the ten weeks since our mobile clinic was established. We operate two mobile clinics each week, seeing about 50 patients per day, and we are planning for a week-long, mobile clinic trip to visit several cities in a short time.
Our set up includes a staff van, an ambulance equipped for ob-gyn services, a medical laboratory on wheels, a mobile dental office and a dental hygiene unit. We are planning to get a truck for mammography and x-ray. Women's health is a priority as breast cancer rates are very high.
We have visited rural areas where displaced people are living, including formerly occupied cities and villages in Northern Ukraine. There is a lot of work today. The UN published a report that 1,000 schools and 500 hospitals have been destroyed in the war thus far.
Most of the patients we see are refugees or displaced persons. Seventy percent are women and children and include people of all ages and from all walks of life. Many are poor and jobless.
I am amazed to see how God is working, and now we are praying for God's leading and wisdom to manage these new services.
Addressing spiritual needs is also something we have always done, and now patients seem particularly receptive.
In a patient feedback meeting they said they are happy to see a doctor, but they appreciate prayer even more. People have experienced so much pain; only prayer can heal these wounds. Our chaplain conducts anointing services for those who desire it. We are distributing GLOW tracts and inviting people to our worship services on Sabbath in Kiev and Chernivsti. We have also had baptisms during the war.
As we care for both the spiritual and physical needs of our patients, we see the value of having like-minded Adventist staff. At present 75% of our team are Seventh-day Adventists.
God has also brought others to help us, such as an orthodox nurse from Mariupol city. She escaped and has been working for us and joining our daily prayer service at 12:45 p.m. She is part Greek, part Ukrainian. She prays in her native Greek language. We've also been blessed with a young dental assistant from Mariupol. Recently a third nurse from an occupied area joined our team. Her parents used to visit the Adventist Church and now have church at home. When they heard about our clinic, they were very happy for their daughter to come and work for us. So our mission fields extends to our staff as well as the people we treat.
What Satan intended for evil, God has turned to a blessing. At the start of the war we had only one clinic in Kiev. Now we are operating two clinics plus a mobile clinic.
Please pray for us. We need your prayers and your help. We are inviting foreign doctors and health professionals to come and join us as our work expands. For more information please refer to our website, angelia.ua
<< | Table of Contents | >>