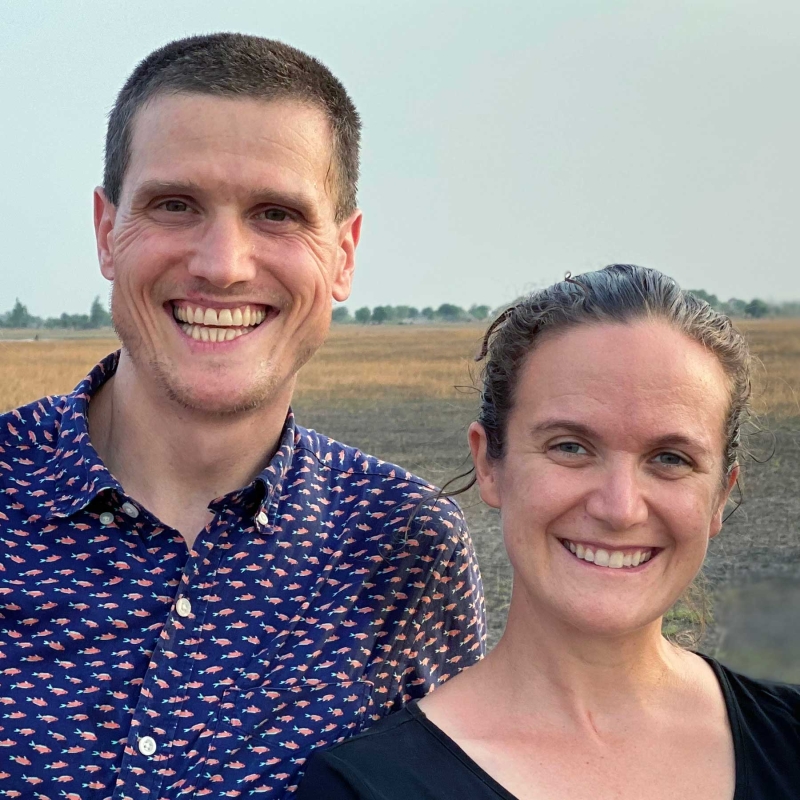 Andrew and Megan Trecartin, 
MD
Against All Odds
Published on 07/01/2022   |
The young girl with eyes typical of her nomadic tribe arrived at the hospital with a swollen face and neck. It was a Friday, and the operating room was booked. Her symptoms began with a toothache that just got worse and worse. Intravenous antibiotics were started immediately, but the patient showed no signs of improvement. Soon it was obvious that she had the dreaded necrotizing fasciitis of the neck.
Necrotizing fasciitis is an incredibly dangerous infection that kills living tissue and spreads rapidly. Even with rapid debridement, mortality in the United States is quite high, and it's even higher here in the heart of Africa where intensive care is basically non-existent.
Andrew and Dr. Bobabe, a young first year Adventist Chadian doctor, took the patient to the operating room to prepare for surgery. Jorrdan Bissell, a fourth year medical student from Loma Linda was also assisting.
As Andrew prepared his materials, the young woman who we will call Hawa started breathing with stridor. Hawa grabbed Andrew's arm and looked at him with sheer panic. Andrew knew death was near and told Dr. Bobabe to run inform her family. The girl collapsed back on the operating room bed, not breathing. "I have to cut, and fast," Andrew told himself internally as he found the closest scalpel.
The pressure mounted as her oxygen saturations dropped to zero percent. She was blue and her blood was black. Reaching her trachea amidst the putrid tissues and placing a tube, they were able to start breathing for the patient. Her eyes rolled back in her head and she convulsed with a violent seizure. Even though her heart was beating, she could be brain dead. As her lungs received the life giving ventilation through the tube, her oxygen saturation on the monitor started to rise to 30%, then after a few minutes to 60%.
"Maybe she can survive debridement," Andrew thought, "if her vitals improve and stabilize."
Deciding it was worth it to try for this young woman, the surgery began. Massive amounts of dead tissue were scraped away from her neck. Finding live tissue finally deep in her neck and chest, her wound was packed. Hawa was transported to the surgical ward.
The surgical ward here is a dusty and dirty place. Patients are housed together in open air rooms with beds separated by 3 feet. Whole families camp out on hospital grounds and around hospital beds for weeks as they wait for healing. They also may wait for months here for elective surgery. For many people in Chad who live mostly outdoors, spitting and urinating on the floor happen frequently. The nursing staff try desperately to keep up with the dirt and filth, but it is challenging. This is not the environment you want to send your freshly debrided neck with now a tracheostomy—not to mention the nurses are not trained in tracheostomy care. There is no suction on the wards. The last patient who required a tracheostomy died after 2 weeks from a mucous plug despite trying to suction regularly. It was a risk and a gamble, but our young patient's only option.
Together, the OR staff grabbed one of three suction machines in the operating rooms, a converter and an extension cord. They looked for an outlet on the surgery ward. Patiently they taught the family how to suction. A humidification tent was fabricated from a plastic bottle. The family was counseled to moisten the gauze over her tracheostomy every 30 minutes. Everyone prayed for healing.
Hawa survived that night and the next night. Hawa communicated with her eyes and hands. The family and nurses faithfully suctioned out her tracheostomy. She underwent multiple follow up debridement operations to control the extensive rotting flesh. Weeks passed. Hawa began to improve. After living within seconds of death from a mucous plug for two weeks, the tube in the trachea was able to be removed. She lost no time in talking. She wasn't brain dead! God had saved her!
The day she was discharged from the hospital, she met with all the nurses and staff to express her gratitude for how God had saved her through the care she received at the Hôpital Adventiste de Béré.
Here in the 10/40 window, many tribes do not have an opportunity to encounter Jesus in a meaningful way. We pray that the interactions and miracles that happen in our rural hospital will give just such opportunities.
<< | Table of Contents | >>