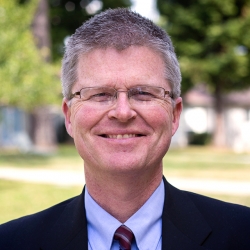 Todd Guthrie, 
MD, PC
Abundant Living, Abundant Giving
Published on 07/01/2022   |
In this edition of the Medical Evangelist you will be encouraged, stimulated, and blessed as you see what God is doing through AMEN members. You, too, can get involved in a more abundant life through ministry.
Dr. Adrian Beyde shares this life of abundant ministry can and should start early and not be delayed by seemingly more important responsibilities. Dr. Randy Bivens shares how self-denial and frugality can make it easier to share throughout our lives as we gain financial independence.
Dr. Yury Bondarenko writes of how God pulled a team together in the middle of a crisis for service in Ukraine which actually expanded his ministry's impact. Gratiela Sabangan, Susan Duehrssen and Noura Elloway tell of how answering the call of service inspires rewarding medical ministry. Dr. Shannon Calaguas shares how God takes our nascent desire to serve and expands and enriches that desire from early training through residency. Dr. Joseph (Won Jin) Jeon reminds us that even as we are in training, we can share the special Sabbath blessing when we are required to serve on Sabbath.
Dr. Michael Robinson reminds us that we
should never give up on the unlovely or challenging patients, because God is calling them at every opportunity, and where there is life, there is hope.
Dr. Phil Mills gives a sobering reminder that investment in our families is a necessary part of the abundant, rewarding life. Dr. Neil Nedley and Dr. Roger Seheult give practical counsel on things we can do to maintain abundant health.
Drs. Andrew and Megan Trecartin lay out the stark needs for service and the amazing responsibilities and rewards of saving even one. Dr. Charlene Wang echoes the call through her transformational testimony.
How is God calling you to serve?
"There are even more urgent necessities upon the Israel of God in these last days than were upon ancient Israel, for there is a great and important work to be accomplished in a very short time. God designed that the spirit of sacrifice should broaden and deepen for the closing work.
As followers of Christ we do not realize our true position. We do not have correct views of our responsibilities. We are stewards of our Lord, and the interests and prosperity of His cause should receive our first and best attention. In the balances of the sanctuary our gifts are not estimated according to the amount given, but according to the self-denial, prompted by love for Christ, that the gift has cost.