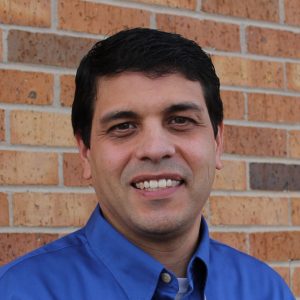 Eddie Ramirez, 
MD
The Adventist Health Message Opens Doors Around the World
Published on 09/22/2016   |
It's a privilege to be part of the Lord's work. One of my favorite verses says: "Delight yourself in the Lord, and He will give you the desires of your heart" (Psalm 37:4). I have seen this promise fulfilled in both my personal and professional life.
After I graduated from medical school, the Lord began to open up opportunities for me to do the things I love. From taking care of patients, to helping with the Nedley Depression Recovery Program, to publishing scientific literature that backs up the beautiful truths of the health message, I'm grateful to be part of Christ's ministry of healing. This article will briefly outline some of my research and the exciting ways I've been able to share it.
My primary interest is to document the powerful way our health message impacts lives. I've been privileged to work on this with Dr. Neil Nedley and Dr. Albert Sanchez. I also teach a research class at Weimar College. It brings me great joy to be able to share my passion for research with the next generation. My students have been wonderful research assistants, providing the extra hands to produce many quality studies.
The Lord has opened up many unique opportunities for us to share our research.
These include:
• Sharing the basic philosophy of the Nedley Depression Recovery Program by explaining the ten hit hypothesis in the American Journal of Lifestyle Medicine.
• Presenting our findings on exercise and depression at a leading sports medicine conference in Barcelona, Spain.
• Publishing several studies in the Journal of Sexual Medicine. Our research revealed that sexual relationships outside of marriage increase the risk and severity of depression and cause lower emotional intelligence. Another study correlated the presence of addiction with past sexual abuse.
• Presenting at Harvard University on the increased risk for mental illness in children who do not grow up with both biological parents.
• Sharing research at an American Heart Association meeting on the effectiveness of the NEWSTART program to decrease blood pressure, improve fasting blood sugar, lower blood lipids, and reverse obesity and diabetes.
• Sharing the correlation between nicotine use and increased depression and anxiety at a xenobiotic meeting in South Korea.
• Receiving an award for the top 3 best studies at a supplement conference after showing the effect of lavender oil on sleep. We also presented several studies on vitamin B12.
• Contributing to the nutrition book Rethink Food. It was an honor to collaborate on this book with giants in the lifestyle medicine world such as Neal Barnard, Caldwell Esselstyn, Michael Greger, and others.
To view an updated list of my published research, visit: https://www.researchgate.net/profile/Francisco_Ramirez24
These and others studies demonstrate the effectiveness of the principles our church has known for over a century. It's exciting to see how interested people are in learning the effectiveness of our health message. In 2015, I was able to speak about health in 25 countries. Here are some of the highlights:
China

In an area of the world where religious and health outreach can be very challenging, God blessed immensely! Our health meetings had standing room only. Participants eagerly absorbed every word spoken. In the following weeks, many attended church services and copied and distributed hundreds of health DVD's. We are currently working to record further material for China at a Chinese church in California.
Belgium
Despite its' previous disinterest in health evangelism, through God's abundant blessings, a Seventh-day Adventist church in Brussels invited me to give a series of presentations. These presentations even attracted people from surrounding countries.
Through a mutual friend, I was able to invite an expert and leading researcher in vegetarian nutrition to the meetings. He is involved in many prestigious health circles, even the Olympics. As we talked afterwards, he shared with me that he had grown up as a Seventh-day Adventist but left the church as a teenager. Now in his 70's, this was the first time he'd reconnected with the church. What a blessing it was to be used by God as the catalyst for reconnecting a former believer with the church again!
A high school classmate of mine, who married a Flemish and now lives in Belgium, attended as well. She does not consider herself a Christian but had been reading the Bible and was touched by the ministry of Jesus. By coming to my presentations, she attended an SDA church for the first time and made friends with some of the members who have committed to following up with her. Who knows where this will lead, but God has planted a seed in her heart.
The American College of Lifestyle Medicine has an analogous organization in Europe. The representative for Belgium attended our meetings and was very impressed to see the health work of our church.
Iceland
Iceland is a region of the world where few people attend meetings, especially religious ones. But the health message opens doors. We expected 30 people to sign up but were surprised by 120. We had to find a new venue. Night after night, more than 100 people showed up. The majority were visitors. The church is carrying the torch and started many follow up programs for those visitors. I hope to conduct another meeting there in the coming months.
India
In India I visited Christian Medical College & Hospital (CMC). This respected institution is not Seventh-day Adventist, but is supported by the General Conference to help train Adventists. I was able to share my research on the Adventist health message with physicians, students, residents, and lay people. This opened up the opportunity to collaborate with CMC on ongoing research projects.
Russia
Due to some unexpected changes in my airline tickets, God opened the door to conduct health training for church leaders at the Division offices in Moscow.
New Zealand
Like many other places we've visited, New Zealand is a challenging area where secularism reigns and many are not interested in religious meetings. But once again God used the health message to open doors. While there, my wife and I gave a series of health seminars throughout the South Island. In one of the churches, the pews were filled to a number they had not seen in years. Another church built connections and used these health lectures to awaken interest just before hosting an evangelistic series.
Australia
I conducted a series of health meetings in Spanish. The focus was to improve the lifestyles of church members while attracting the local Spanish population. It was thrilling to see the visitors attending, applying what they learned, and being nurtured by the local church members.
Norway
Norway is home to the Heartgood Foundation & Lifestyle Center. Heartgood is a ministry of Outpost Centers International (OCI). I had the privilege of being involved in several of their lifestyle programs while I was there. It was very encouraging to see how this ministry is drawing people to us that we would otherwise not have the opportunity to connect with. My last Sabbath there, I spoke in a local congregation and saw they had 'witnessing books' available. I was able to take Great Controversy, Steps to Christ, and Ministry of Healing books for the guests at the lifestyle center. To my pleasant surprise, the patients eagerly accepted these books.
Italy
I did various seminars including one in the biggest Seventh-day Adventist church in the country. It was a blessing to see how well attended it was. People are truly hungry for quality health information.
Singapore
I was invited by the Vegetarian Society of Singapore to teach a hydrotherapy course. During the lectures I frequently quoted from Ellen White's book Ministry of Healing. Many attendees requested information on how they too could get that book.
These are just a few examples of the miraculous ways God is opening doors all over the world. I feel very humbled as I contemplate what He has done through this imperfect vessel. God's method alone will finish the work. I'm convinced that as we put our talents at His feet, we will be surprised and delighted by what He is able to accomplish through us.
<< | Table of Contents | >>