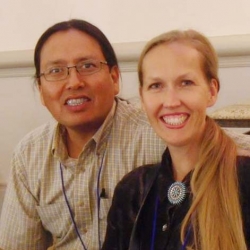 Kelley Fowler, 
Missionary
Arizona Dental Clinic, Diné Outreach
By Kelley Fowler,
Missionary
   |
Published on August 6, 2013   |
2 min. read
Last spring we attended the regional ASI in Sacramento, California. A wonderful blessing resulted from our having the opportunity to network! We met Danny Kwon, the Executive Director for both AMEN and Life and Health Network. While speaking with Danny and sharing the needs on the reservation, we all got very excited about the possibility of these three ministries collaborating to meet the needs on the reservation. As we watched God work it all out, it culminated in a team of five dentists from California, New Mexico & Arizona, along with supporting staff members who made sure everything was streamlined.
They saw well over 95 people over the course of 2 days! AMEN offered the clinic and Life and Health handled the media production; they made a beautiful video which was shown at the AMEN luncheon at ASI in Orlando and interviewed some of the very grateful recipients. We here at Diné outreach are incredibly grateful to the Lord who orchestrated these events. The whole clinic went so well, despite a few minor glitches, that simply led us to pray more. After each individual was seen, they left with a health gift bag filled with dental items, literature and other goodies, plus a number to call if they were interested in having a Health Coach visit them. This outreach has left such a positive feeling of love and goodwill in the community that we expect many positive residual effects from it.
Here's why this was such a powerful outreach: The people of the Navajo reservation do not all receive free health care, as many assume. The option to receive the general health insurance that is free, and open to any low-income person, of any race, from the state of Arizona is called "Ahcccs" and is only available to those who qualify. But countless numbers of Navajos sadly do not qualify, and they "fall through the cracks" in the system. And then there is the IHS (Indian Health Service), which is not an entitlement program like Medicare or Medicaid; it is also not an insurance program, nor is it an established "benefits" package. The IHS is funded yearly through appropriations by the U.S. Congress, thus the IHS cannot always guarantee that funds will be available and only an estimated 60% of the health care needs of a Native individual are likely to be met if they can qualify at all. So that is why this outreach has met such a large need, and was such a blessing. We are always looking for a continuous flow of missionary aid, reaching people for the kingdom!
Thank you to all the dentists: Matt Chung, DDS; Jeff Westbrook, DDS; Dean Funada, DDS; Scott Lee, DDS; and Anita Lee, DDS as well as to the four students from LLU dental school: Hangin Cho, Jaewon Lee, Jinhyun Cho, and Jinkyu Lee. We are also grateful for the Life and Health employees who volunteered (no pay) to work this weekend event: Sung Hoon Kang, Creative Director; Jon Ewald, Editor/Producer; Desiree McSherry, Nutritionist/Administrative Assistant; Adam Oliver, media intern; Crystal Um, intern (and her mom Jewel Um); and Danny Kwon, Executive Director.